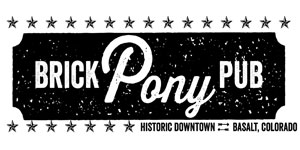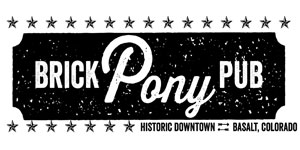 Super Size Beer
20 oz. goblets of beer for the price of a pint. $5 or $6 depending on draft. see more »
Daily
Map

Reviews
Brick Pony Pub
Super Size Beer
20 oz. goblets of beer for the price of a pint. $5 or $6 depending on draft.
Daily
×
Brick Pony Pub
$$
Serving: Lunch, Dinner
In Season Hours
11am-close daily
Bar til 2am
Menus
Specials
The Basalt restaurant, the Brick Pony Pub, serves reasonably priced homemade foods and is focused on locally grown, organic produce, meat, & sustainably raised fish.
Choice of appetizers include Fried Green Tomatoes, Mussels, Shrimp & Bacon stuffed Jalapeno Poppers, Wings, Buffalo Sliders & a wide selection of Salads. Sandwiches on the menu include Pulled Pork, & BLT w/ grilled Mahi Mahi, 100% Grass fed Crystal River Beer Burgers & Black Bean Burgers. Entrees include Blackened Alaskan Cod Fish Tacos, Buffalo Meatloaf, Grilled Salmon, & Pizzas. Nightly specials rotating.
The Bar offers a selection of draft beer & wines on tap. Entertainments of 5+ flat-screen TVs for sports action.
Chef Ramon Castillon
Chef de Cuisine James Mazzio
×